RH-8400 Best Quality–RAECH SprayBooth With CE
Product Detail
Product Tags
Product Description
Advanced Car Spray Booth:
Model :RH-8400 
Features
Cabin system:
1) Wall panel: 50mm thick flame-resistant and heat-preserving 
EPS board; 0.426 thick colored steel.
Roof panel: 0.8mm galvanized sheet;
2) Basement: steel structure base; two line grilles, three diamond plates; height is 300mm; three ramps;
Air circulation system:
Inhaling Ventilator:Model: YDW-4.5L1
Blower Capacity: 24000m3/h,Pressure: 800Pa,Rolling Speed: 900rpm,Power: 4kw,Quantity: 2sets
Exhaust Ventilator Model:YDW5.6M
Capacity:21000m3/h,Pressure:800Pa,Velocity:900rpm,Power:7.5KW,Quantity:1Set
Electric dampers actuate from spraying to baking cycle,equip with electric damper for exhaust air.
Generator: back upper intake air,back up extract air,quadrate steel frame,coated steel;
Air purification system:
G3 grade, Pockets filter Pre-filter, EU5 / F5 high efficiency filter (ceiling filter),green fiber glass filter / G3 grade floor filter;
Pocket filter or M green fiber glass filter and active carbon exhaust fan filter.
Heat system:
stainless steel SUS304 heat exchanger, RIELLO G20 diesel burner one stage,
heating capacity is 180000Kcal/h, electric damper from spraying to baking cycle; oil consumption 4~6L/set;
Spray to baking switch: 20N Electrical Actuator
Chimney Duct: 4 meters straight ducting and one chimney hood
heating time is 5~7 minutes;
Max heating temperature:80degree;
Lighting system:≥900Lux
Ceiling lights: 8Groupsx4Pcs=32Pcs x36W ;Side lights:8GroupsX2Pcs=16Pcsx36W;
Glass: all glass is clear tempered glass.
Control box:
Lighting switch, spraying, risen-temperature spraying, baking, baking temperature,
time setting, failure indicator, temperature controller, emergency stop, breakdown alarm;
Total power: 17.5KW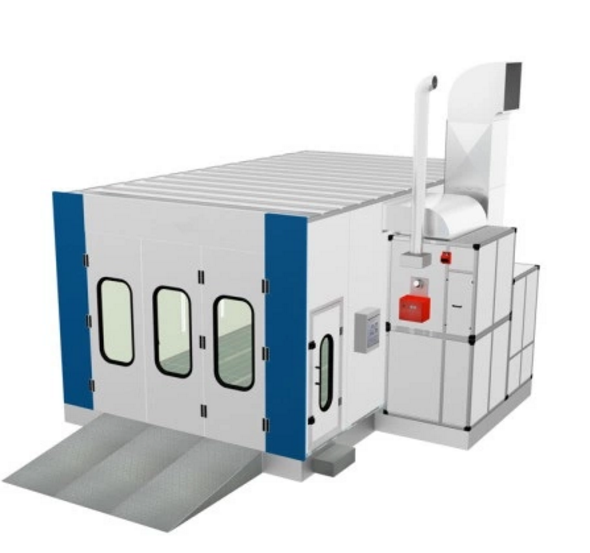 Specification
| | | | |
| --- | --- | --- | --- |
| Outside dimension: | 7000×5550×3470mm | Voltage: | 380V/3PH/50HZ |
| Inside dimension: | 6900×4000×2800mm | Max heating temperature: | 80 degree |
| Front door dimension: | 3000×2700mm | Certification: | CE, ISO:9001 |
| Working door dimension: | 800×2000mm | Warranty: | 1 years |
| Basement: | height is 300mm | Heating time: | DC 12V-14V |
| Lighting system: | ≥900Lux | MOQ: | 1 set |
| Total power: | 17.5KW | Port: | Guangzhou orShenzhen |
| Inhaling Ventilator: | 2sets YDW-4.5L1 | Exhaust Ventilator: | 1 set YDW5.6M |
Dimension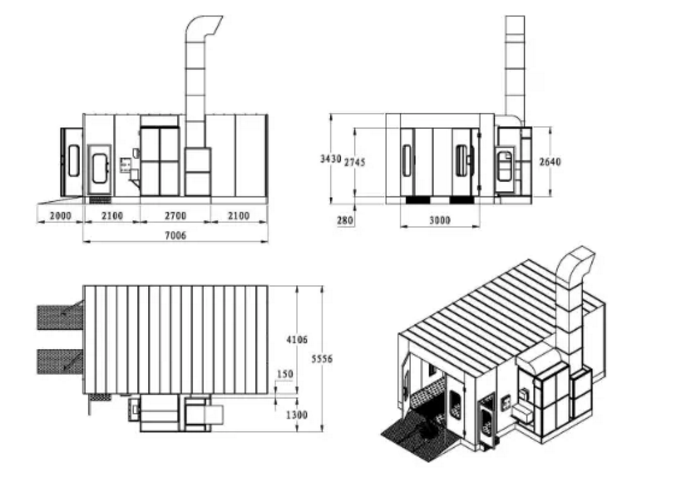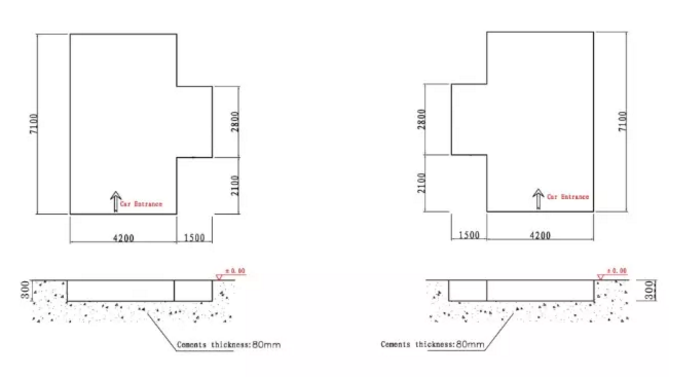 ---
---