RH-S7 3D Car wheel aligner equipment with low price
Product Detail
Product Tags
Product Description
Electrical controlled lifting column; camera and beamunit with
Intelligent indicative; auto tracking function.
Model :RH-S7
Features
· Intellectual property right on software innovation; measurement is smooth,
                stable, reliable and precise.
· Electrical controlled lifting column; camera and beam unit with intelligent indicative light.
· Accident vehicle measurement function, axle offset measurement,
                lateral offset measurement, wheel base diff.,
                track width., rear wheel set-back angle measurement.
· Vehicle lift measurement.
· Toe constant measurement,special function for measuring the car Audi A6 and Passat B5.
· Work without calibration after the installation.
· High precision, less influence by lift out-of-level or moving.
· 8CM short distance for car pushing and pulling.
· Along with video, animation to show how to adjust the car,
              and with the help file for each step.
· Automotive tracking function, the camera will catch the targe plate automatically
                when it was moved up or down with the lift platform.
· History measurement recording system, easily checking the related data.
· Muti-languages, languages could be added into the program as required.
· Database covering 20,000 car models worldwide, upgrade annually.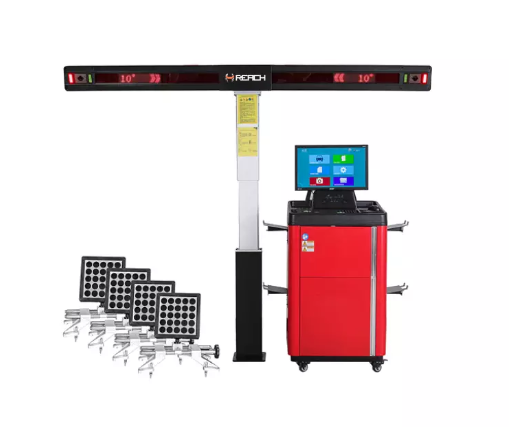 Technical Parameters
Item

Range

 Accuracy

Total toe

±20°

±0.02°

Individual Toe

±20°

±0.01°

Camber

±12°

±0.02°

Caster

±25°

±0.1°

KPI

±25°

±0.1°

Setback

±9°

±0.01°

Thrust Angle

±9°

±0.01°

Track Width

1.2-1.7m

Wheel base

1.8-3.6m

Power supply

110/220V,50/60Hz,1ph

must be earthed.
---
---