RH-1200 3-24inch Truck Tire Wheel Balancer For Truck Tire
Product Detail
Product Tags
Product Description
Truck wheel balancer with CE
Model :RH-1200
Features
· Esay operation of lifting device and mount-demount tyre with
protection cover, well-consideration safety and stable.
· The microprocessor is composed of integrate circuit, with high-capacity and high-stability can realize the converting of big or small model wheels,
suitable for trucks, buses, cars and motorcycle wheels.
· Tyre high precise balance operation thanks to its precise balancing spindle
special design for balancing tyre with big rim hole.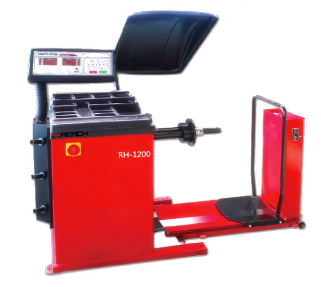 Technical Parameters
| | |
| --- | --- |
| Rim diameter: | 13″-24″ |
| Rim width: | 5.5-20″ |
| Max.wheel weight: | 150kg |
| Max.wheel width: | 1200mm |
| Air pressure: | 6-8bar |
| Testing time: | 8s |
| Protection cover: | supplied |
| Pneumatic built-in lift: | supplied |
| Machine weight approx: | 2000x15000mm |
| G.W.: | 320kg |
| Outside dimension | 1260x960x1130mm |
| Power supply | 400V/220V(optional) |
| Standard accessories: | International universal standard flange tapering (diameter range 40-285mm) wheel width calipers, lock nut, wheel ballast weight pliers |
Details Description

---
---